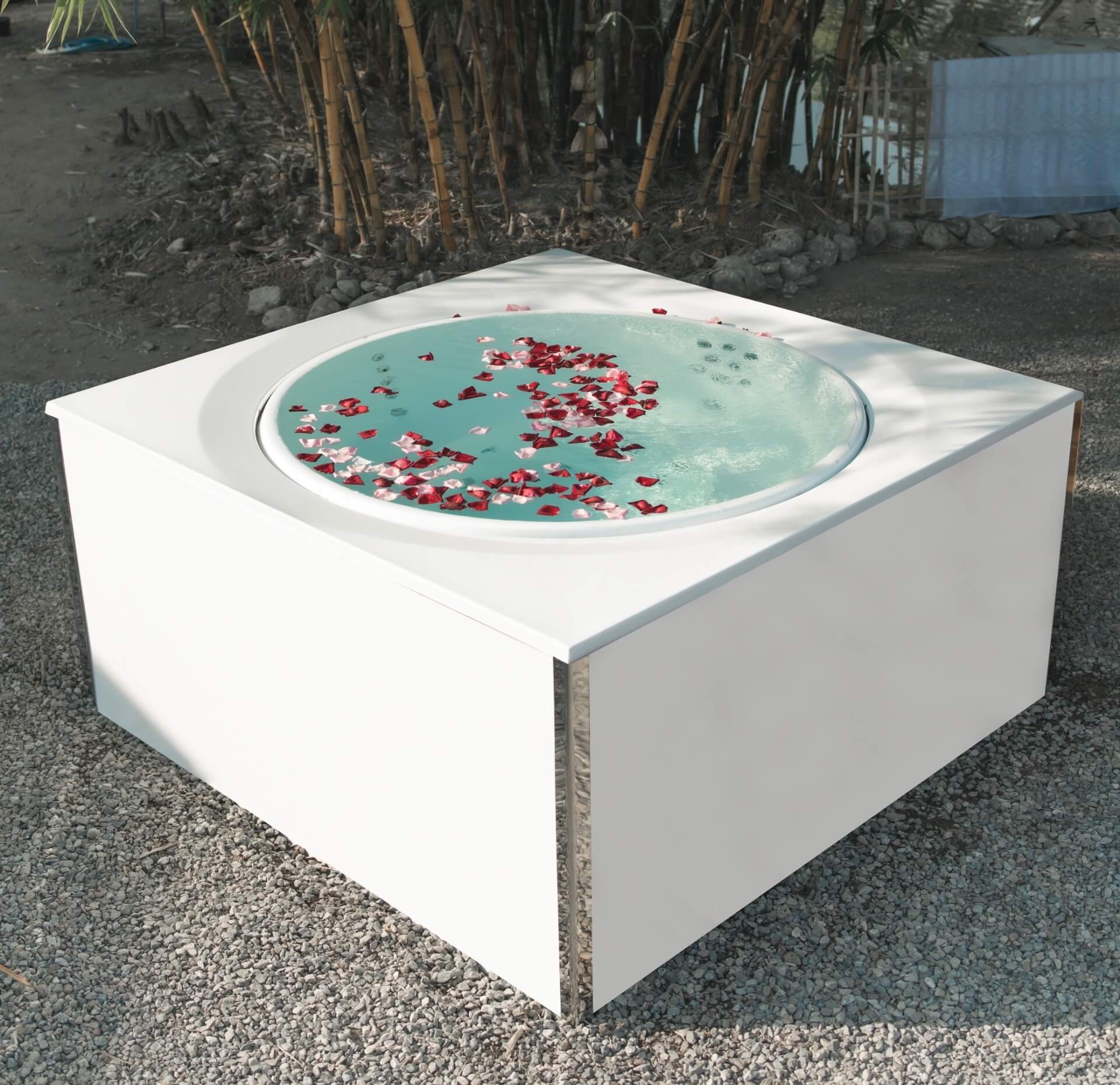 Cocoon, the acrylic overflow spa
Designed for intensive and professional use
An exclusive and elegant product that redefines the codes of luxury
Cocoon, the acrylic overflow spa
Designed for intensive and professional use
An exclusive and elegant product that redefines the codes of luxury
Acrylic overflow spa models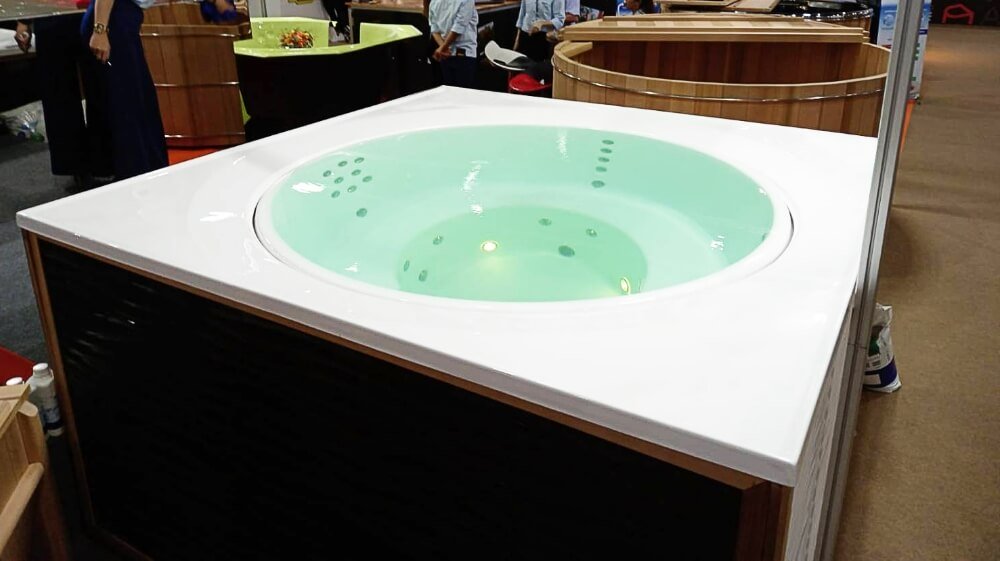 Cocoon, the acrylic overflow spa
Designed for intensive and professional use
Seats : Fits 4 – 6 Adults
Material : Surface: Acrylic sheet, Combine layer with fiberglass coated
Specifications
| | |
| --- | --- |
| Hot tub water capacity | 1,200 Liters |
| Internal dimension | Depth 102 cm, Diameter: 160 cm |
| External dimension | Width 207 x Length 207 x Height 116 cm |
| Massage seat | 4 Places, 29 jets Bubble/Hydro combined jets |
| LED underwater lighting | 4 LED lights |
Ultra-Bio-Ozone
bacteriological treatment (Patent EP 2785648)
A filtration pump.
An ozone pump.
A tank of high performance filter media.
Stainless steel tank.
Automatic backwash valve.
Two ozone lamps.
One UV lamp.
Two ozone injection modes.
pH and ORP injection pump and controller.
Maximum power of the water treatment system: 1.5 kW.
Two stainless steel heaters.
Cocoon Light
2 Versions
Cocoon Light BI (Buit-in)
Cocoon Light ST (Standalone)
Outside height : 104 cm
Inner diameter : 167 cm 
Diameter : 167 cm
Seats : Fits 4 – 6 Adults
Material : Tubs are available in white or black acrylic.
Specifications
| | |
| --- | --- |
| Internal dimensions | Depth 102 cm, Diameter: 160 cm |
| External dimensions for Cocoon Light BI (Built-in) | Diameter 166 cm x Height 102 cm |
| External dimensions for Cocoon Light ST (Standalone) | Diameter 188 cm x Height 102 cm |
| Massage seats | 4 Places, 29 jets Bubble/Hydro combined jets |
Ultra-Bio-Ozone
bacteriological treatment (Patent EP 2785648)
A filtration system.
Massages for 4 persons with 4 different types of massages.
Acrylic tub.
One stainless steel heater.
Outside covering with acrylic or red cedar wood for Cocoon Light ST (Standalone)
Optional chemical-free water treatment UBO®
The advantages of the Cocoon
Serenity
Optimal water disinfection fully automated and remotely programmable depending on your needs.
Hygiene
Thanks to the patented Ultra-Bio-Ozone® filtration technology that respects the environment, microorganisms can no longer develop.
Sustainable development
No need to use chlorine or other chemicals to disinfect water
Health
No more bad smells and irritation of the skin and eyes caused by the use of chlorine.
Ecology
Eco-design to reduce the impact on the environment during the daily use of the product.
Modernity
A full options product, featuring the latest technologies, such as bath management by dedicated application.
Personalization
Differentiated choice of colors for the tank and the walls.
Innovation
The world's first acrylic overflow spa with 100% chemical-free Ultra-Bio-Ozone® bacteriological treatment.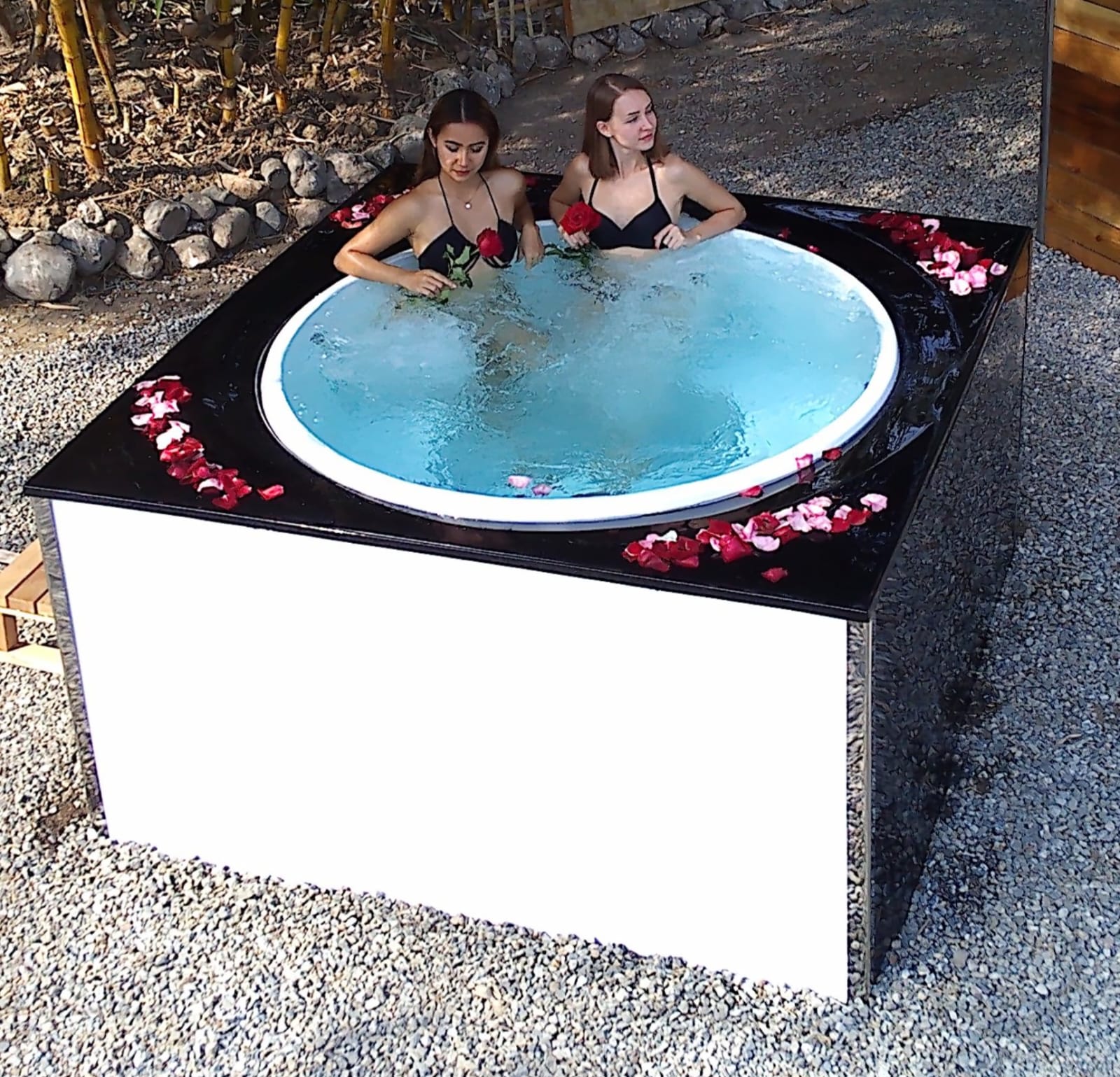 A top-of-the-range product with all options, developped for professionals
Brings real added value to the establishment and sets it apart from the competition.
Respect the regulations in force
Can accommodate up to 4/6 people.
Thanks to its overflow, the water level remains the same with one or more users present in the bath.
Combine les avantages du spa, jacuzzis et bain nordique.
A particularly pleasant sitting position completely immersed in perfectly clear water, odorless and offering a gentle feeling of weightlessness.
Efficient while respecting the environment
Designed to welcome customers
for intensive and professional use, the Cocoon acrylic overflow spa is a luxurious, modern and trendy product.
Featuring our "Silence +" filtration technology, it combines serenity, comfort and energy savings, this technology is complemented by a very efficient heat pump.
Its design incorporates all the elements necessary for its operation (electrical box, filtration, pumps, bacteriological treatment, heating, heat pump etc.,
The stainless steel massage nozzles cannot be removed by customers.
The spa settings are not accessible to customers thanks to its hidden control panel accessible remotely via an internet connection and by smartphone in direct wifi.
The overflow is enhanced by a set of LEDs discreetly placed around the bath.
4 different massage positions, your customers choose their seat according to their desire to have a localized massage or a more enveloping and relaxing one.
The system drains surface impurities through the overflow and through a bottom nozzle, water is then filtered at 1 micron, chlorine-free (or with a minimum rate if the regulations require it) and unparalleled durability.
The Cocoon is the first acrylic overflow spa in the world with a 100% chemical-free bacteriological treatment Ultra-Bio-Ozone® (patent EP2785648), benefiting from all our expertise, which makes it the height of refinement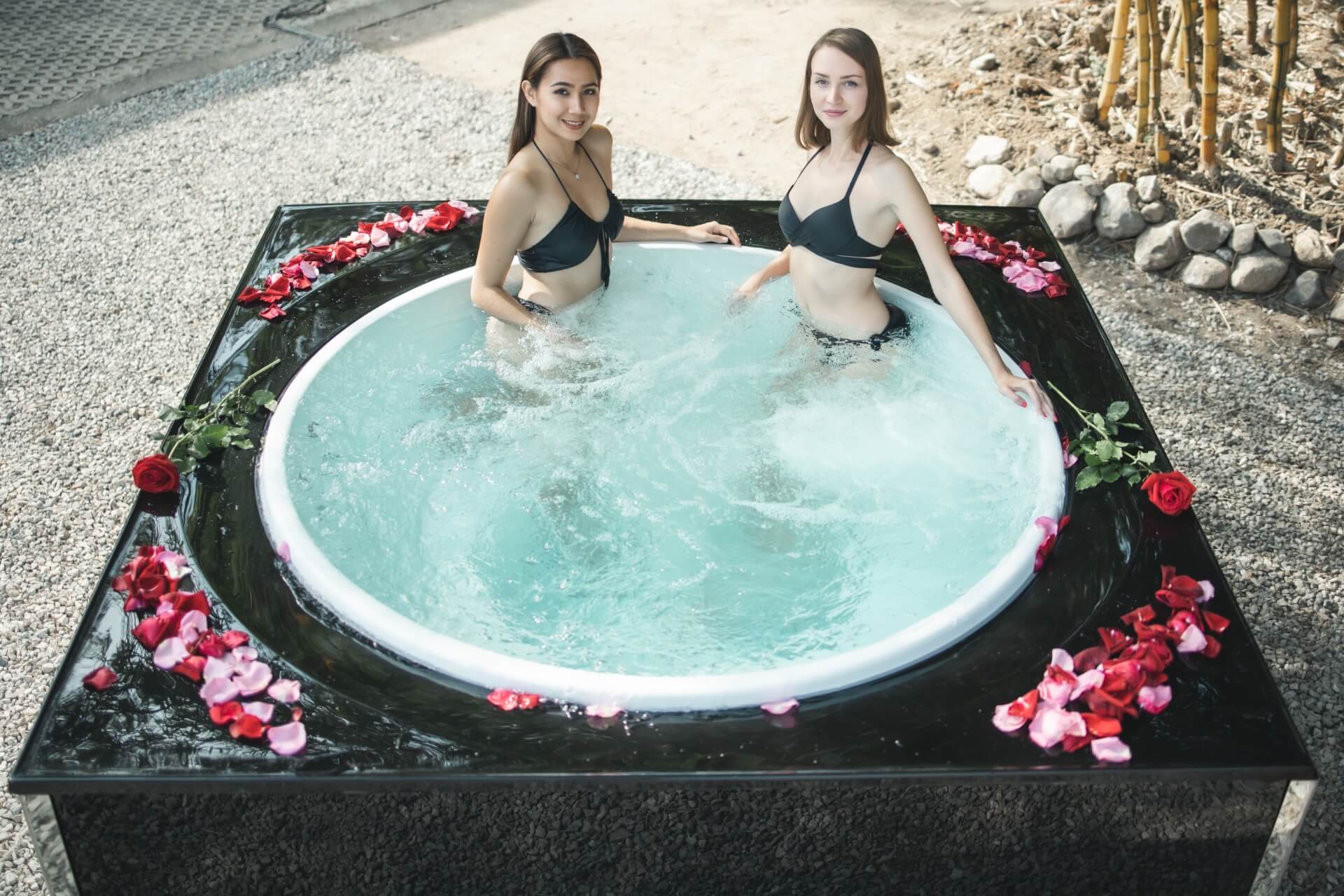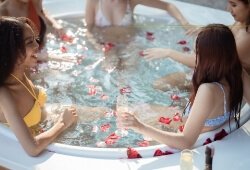 Large choice of colors for the top and the walls of the spa. Walls available in wood or acrylic.
The Cocoon has been designed to meet two needs: ecology and sustainability.
The combination of design and revolutionary water treatment technology has resulted in the creation of this beautiful product, easy to integrate into the environment and offering crystal clear and odorless water to its happy users!
Water savings
No need to change the water anymore, thanks to the Ultra-Bio-Ozone® treatment system.
The water and the walls of the spa are treated to prevent the development of biofilm, which once it has developed requires complete draining, deep cleaning or the use of chemicals.
Ultra-Bio-Ozone®, thanks to its design, uses much less water during backwashing.
Energy savings
To go further in respecting our planet, the integrated heat pump avoids the permanent use of expensive electric heating (which is only integrated to boost the heat pump if necessary).
Incorporating a multi-speed management module for the filtration pump, Ultra-Bio-Ozone® optimizes UV and Ozone treatment, resulting in electrical consumption divided by 3 or even 4 compared to competing systems.
Respect the environment
No more constant additions of chemicals!
Ultra-Bio-Ozone® makes possible to avoid the use of products such as chlorine to bacteriologically treat the water.
The water is clear, without biofilm on the walls and above all without bad smells resulting of the use of chlorine.
Eco-design was the main idea, with a methodical approach aimed at minimizing the environmental impacts attributable to this type of equipment.
We have complete control over Ultra-Bio-Ozone® systems and hot tub: design, manufacturing, sale price, distribution. Contact us now to discuss your needs.
Ultra-Bio-Ozone® Switzerland
AVI Swiss Group SA
Administration:
Avenue de la Gare 36,
2012 Auvernier Switzerland.
Warehouse:
Rue des Draizes 7
2000 Neuchâtel Switzerland.
Factory: (100% subsidiary of AVI Swiss Group SA.)
Swiss Thai Water Solution Co., Ltd.
111 Moo.6 Tambon Khunkong, Amphoe Hangdong,
50230 Chiangmai, Thailand
Email
contact@water-solution.ch
Opening times
Monday to Friday from 8 am to 5 pm
Contact our distribution partner.
Altipure®