Stainless steel swimming pool
Introducing the pinnacle of elegance and luxury
Our exquisite stainless steel swimming pool. Dive into a world of unparalleled opulence and indulge in the ultimate aquatic experience. Crafted with precision and designed to perfection, our stainless steel pools are a testament to superior craftsmanship and enduring beauty.
Designed for professionals
Discover the joy of owning a pool that combines timeless elegance, eco-friendliness and durability. Contact us today and let us transform your backyard into a haven of relaxation and beauty with our exceptional stainless steel swimming pool.
Professional grade
Made for intensive use, letting customers enjoy it for years
Water savings
Innovative water-saving technology to minimize water consumption without compromising customers' experience.
Heat retention
Lined with high-performance insulation, the stainless steel bath keeps the water hot for a long time. All that remains is to relax!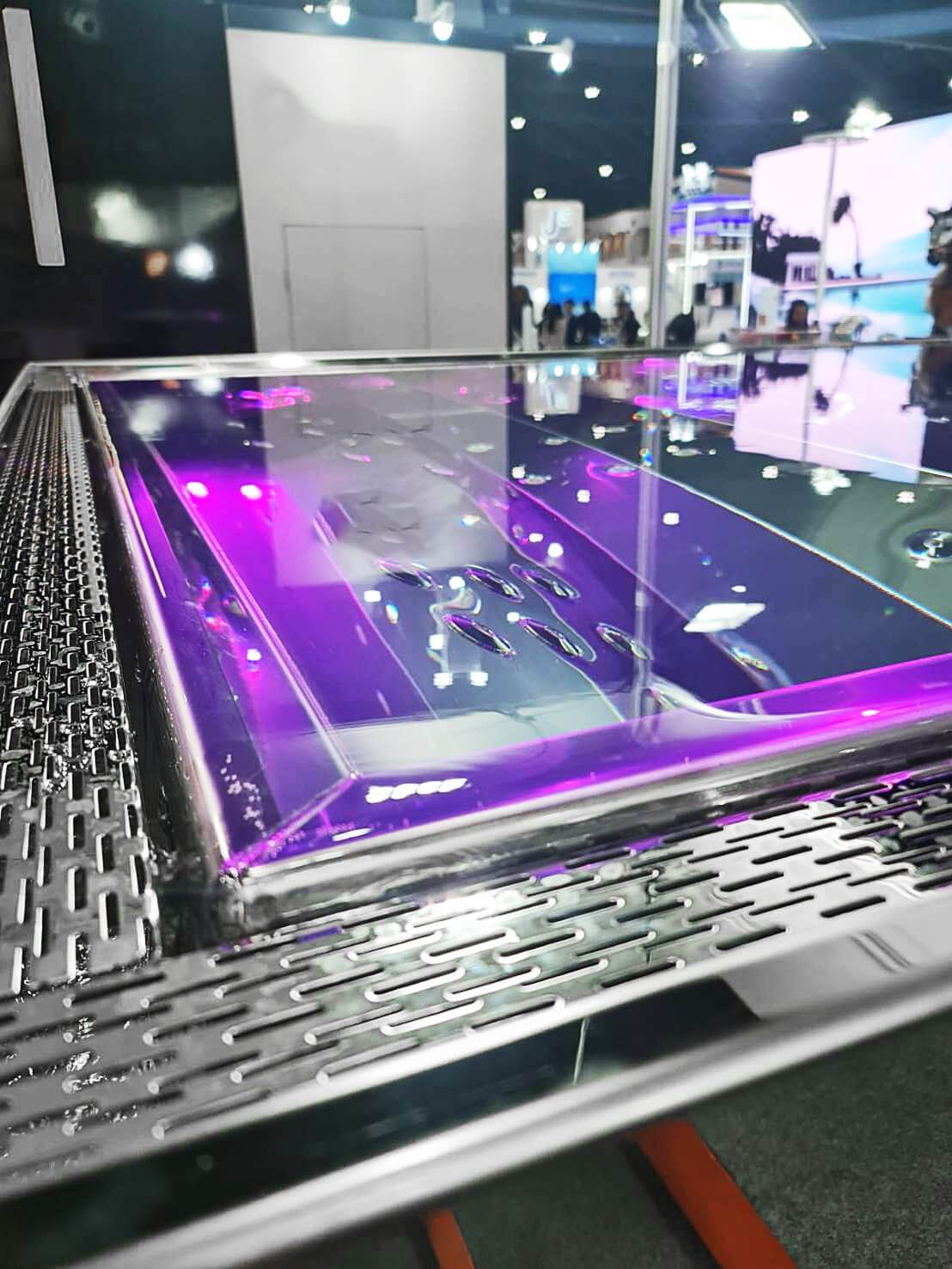 Here's why our stainless steel swimming pools stand out
We are proud to offer swimming pools that not only provide a luxurious and relaxing experience but also prioritize environmental sustainability, safety, and durability. Our stainless steel swimming pools have been designed with multiple features that make them eco-friendly and perfect for those seeking a responsible and enjoyable, unique experience.
One of the key aspects of our swimming pools is their innovative water-saving technology. We understand the importance of keeping this precious resource, and they are engineered to minimize water consumption without compromising the experience of your customers, thanks to their advanced water treatment system.
Our swimming pools are designed to optimally integrate Ultra-Bio-Ozone®️ chemical-free water treatment system, our patented technology using a combination of superior filtration, UV and ozone, a powerful and natural oxidant, to sanitize water by minimizing the use of harsh chemicals. Most hotels that make intensive use of such a treatment system only change the water of their pool once a year.
By choosing our eco-friendly swimming pools, you are not only investing in a luxurious and invigorating experience but also making a conscious choice for the environment. With water-saving technology, Ultra-Bio-Ozone®️ chemical-free water treatment system, a strong emphasis on safety, and durability for intensive use, our stainless steel swimming pools embody the perfect combination of luxury, sustainability, and responsibility.
Unmatched Durability
Built to withstand the test of time, our stainless steel pools are engineered with high-quality materials that resist corrosion, rust, and fading. The sturdy construction ensures longevity, allowing you to enjoy years of worry-free relaxation and enjoyment.
Impeccable Design
Laser-welded, our swimming pools are meticulously designed to complement any landscape or architectural style. With sleek lines, smooth surfaces, and a timeless appeal, our stainless steel pools create a stunning focal point that enhance the aesthetic of any outdoor space.
Eco-friendliness
Featuring our chemical-free Ultra-Bio-Ozone®️ water treatment system, avoiding allergies and irritations due to chlorine. You can now enjoy crystal-clear water, without bad smells or skin troubles.
Customization Options
We understand that each homeowner has unique preferences, which is why we offer a range of customization options. From size and shape to additional features such as built-in seating, water treatment system or LED lighting, we can tailor the pool to your specific desires, turning your vision into a reality.
Hygiene and Maintenance
Stainless steel is not only visually stunning but also hygienic and easy to maintain. The non-porous surface prevents the growth of algae and bacteria, ensuring a clean and safe swimming environment for you and your loved ones. Additionally, minimal upkeep is required to keep your pool in good condition, saving you time and effort.
Energy Efficiency
Our stainless steel pools are designed with energy efficiency in mind. With advanced insulation techniques and heat pump, heat loss is minimized, allowing you to enjoy comfortable water temperatures while reducing energy costs.
An eco-responsible approach
We have complete control over Ultra-Bio-Ozone® systems and hot tub: design, manufacturing, sale price, distribution. Contact us now to discuss your needs.
Ultra-Bio-Ozone® Switzerland
AVI Swiss Group SA
Administration:
Avenue de la Gare 36,
2012 Auvernier Switzerland.
Warehouse:
Rue des Draizes 7
2000 Neuchâtel Switzerland.
Factory: (100% subsidiary of AVI Swiss Group SA.)
Swiss Thai Water Solution Co., Ltd.
111 Moo.6 Tambon Khunkong, Amphoe Hangdong,
50230 Chiangmai, Thailand
Email
contact@water-solution.ch
Opening times
Monday to Friday from 8 am to 5 pm