The crucial issues of water treatment
In an establishment open to the public, the quality of the water is essential.
Issues of water treatment, regulations requirements, and maintenance challenges can annihilate profitability of your new hot tub. From day one, you must consider how much the long-term vision determines the success of a hot tub or Jacuzzi.
The very tempting trap of ordinary filtration
While water quality regulations are becoming increasingly stringent, administrative penalties are not the only risk faced by careless public facility operators.
These days, concerned visitors don't hesitate to share their grievances on social media, which can quickly undermine a long-established reputation.
So if the choice of a hot tub is important, the selection of a filtration method and bacteriological treatment system is crucial. However, manufacturers and sellers of hot tubs or Jacuzzis often neglect these essential parameters.
Many customers focus on the design and price when it is the out of sight elements of a hot tub that demand more attention and an uncompromising budget.
The frequent use of hot tubs available at hotels, lodges, campsites, and other accommodations generates significantly more maintenance compared to those related to private use.
This means ordinary filtration won't be suitable.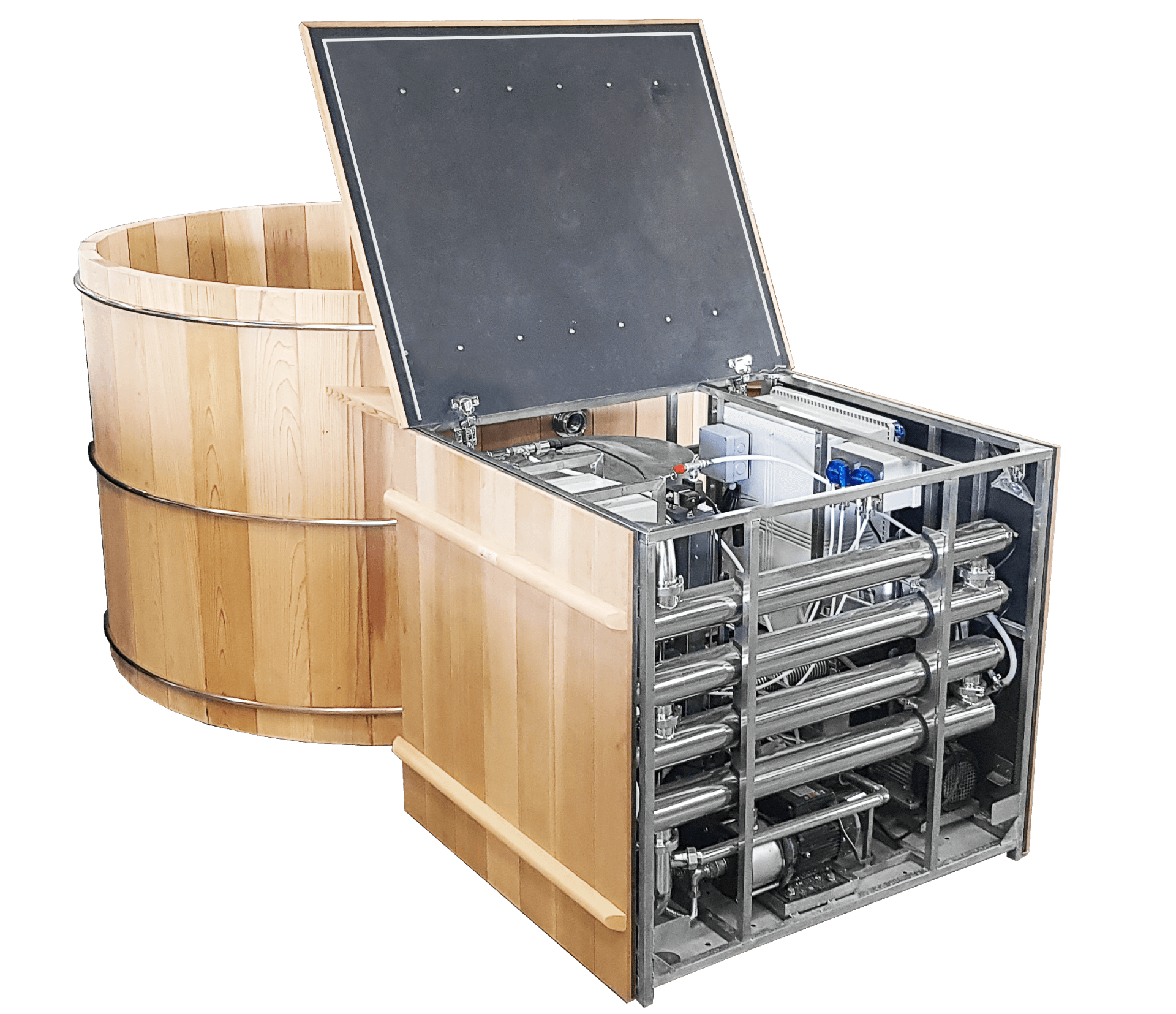 Why is it so difficult to treat a hot tub at 38ºC – even with chemicals (chlorine/bromine)?
Several parameters influence the quality of the water :
Properties of the filling water
Heating the water to 38ºC is required to inhibit bacterial growth
pH regulation is often out of range
A wooden tank generates a significant release of tannin
Outdoor settlements are subject to a substantial amount of organic matter (leaves, dust, pollen, various pollutants, etc.)
Multiple users
Random showering – bacterial contamination comes mainly from bathers
10 years of experience and more than 100 settlements in France demonstrates the reliability of an innovative system designed specifically for hot tubs and Jacuzzis settled down in public buildings.
Thanks to its unique approach, Ultra-Bio-Ozone® targets all the parameters that affect water quality, while respecting the environment.
Ultra-efficient filtration combined with a unique bacteriological Ozone and UV treatment
One of our filter's unique enhancements lies in the combination of several different processes: high-performance filtration, powerful UV-C lamps, and unique (patented) ozone injection to effectively target the entire spectrum of pathogenic contaminations.
It is the Swiss army knife in the battle against bacteria.
Even better: the Ultra-Bio-Ozone® patent also prevents the development of the dreaded biofilm and avoids the massive use of chemical strike force when it is already too late.
As adhesive as it is intrusive, this biofilm is formed by the cooperation of bacteria, fungi, algae, or other protozoa..
Avoid mistakes
All the parameters mentioned above generate significant microbial development which must be countered in a strong and targeted manner.
Operators enter a vicious circle because the use of recommended doses of chemicals (chlorine / bromine) is often insufficient. Increasing quantities beyond standards is therefore the only way out.
You must know that
Chlorine and bromine do not penetrate the adhesive and protective layer of the biofilm.
These chemical agents are therefore unable to eliminate it and the microorganisms continue to proliferate.
Consequences for the user
The hot tub, which is supposed to be relaxing, becomes an unpleasant concentrate of chemicals.
Important
After a few weeks of use, biofilm invades all the components of a hot tub and filtration system.
Manual cleaning and simple emptying will not get rid of the biofilm which insinuates itself in the most unreachable places:
pipes, pumps, filters, etc.
Filling a bathtub without having completely eradicated the biofilm means contaminating the water immediately !
Ultra-Bio-Ozone® professional water filtration
How to treat spa water?
Easy to install: delivered assembled and "ready to install", our system can be adapted to existing installations.
If the regulations of a country requires it, our system is completed by the injection of chlorine or bromine, which is automatically adjusted to the minimum rate possible.
We have complete control over Ultra-Bio-Ozone® systems and hot tub: design, manufacturing, sale price, distribution. Contact us now to discuss your needs.
Ultra-Bio-Ozone® Switzerland
AVI Swiss Group SA
Administration:
Avenue de la Gare 36,
2012 Auvernier Switzerland.
Warehouse:
Rue des Draizes 7
2000 Neuchâtel Switzerland.
Factory: (100% subsidiary of AVI Swiss Group SA.)
Swiss Thai Water Solution Co., Ltd.
111 Moo.6 Tambon Khunkong, Amphoe Hangdong,
50230 Chiangmai, Thailand
Email
contact@water-solution.ch
Opening times
Monday to Friday from 8 am to 5 pm